INTRODUCTION
Our Pasadena mission was to witness the 42nd Annual Pasadena Showcase House of Design before it opened to the public on April 23rd, 2006. In my past visits to Pasadena I have enjoyed shopping in Old Town, strolling through the Arroyo neighborhoods, and looking around Castle Greene. With such pleasant weather, lush spectacles of flowers, and abundant dinning choices; I would like to stay a week and thoroughly get to know the vast interior and exterior architecture sites in this area.
LOCAL ARCHITECTURAL STYLE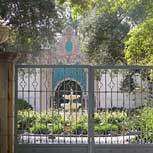 The broad scope of architectural styles make this destination one with more design content than most other major US cities. Best known for the grand examples of homes from the Arts and Crafts Movement; Pasadena is also well know for it's excellent examples of classic domestic architectural types: Beaux Arts, Italian Renaissance, Prairie, Shingle style; and Tudor, Cotswold, Swiss Chalet, and Asian wood structure vernaculars. Hundreds of these sites are on the National Register of Historic Places, and there are even four that have been given National Historic Landmark status.
The design story here is how American architects interpreted the prevailing trends but infused them with consideration for nature and climate. The indoor/outdoor living indigenous to Southern California was highlighted by the incorporation of landscape and gardens into the interior features and furnishings in the overall designed environment.
Natural wood furnishings, carvings, tinted glass, and floor and ceiling treatments were all combined for harmonious design. Gardens and outer buildings were not afterthoughts but part of the design ideology of the time. Some excellent examples for this style can be seen at the Gamble House and the Blacker House, designed by Greene & Greene.

The Bungalow vernacular is abundant in Pasadena. There are several neighborhoods that are prime examples of how contractors and individuals adapted to the social change of the times and built these one-story charming homes.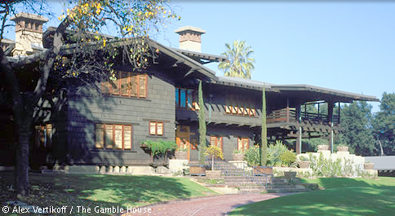 The Gamble House
This internationally acclaimed Arts and Crafts masterpeice was built in 1908 for David B. and Mary Gamble, of the Procter and Gamble Company, as their retirement home. The house and furnishings are a National Historic Landmark and was designed by architects Green and Greene.



Greene & Greene expressed their design philosophy of creating a unified interior and exterior environment. This treatment had a significant effect on how interior design was interpreted by later architects.

The house is filled with furniture, paneling, rugs, lighting, cabinetry, lead-stained glass, and accessories; all designed by these acclaimed architectects who drew their inspiration from nature instead of the typical historical references. This style, also adapted from the wood building venaculars of the Orient, was well suited for the Southern Calfiornia climate and progressive social tolerence.
Guided tours are available Thursday – Sunday from 12 p.m. – 3 p.m. (last tour begins at 3:00 p.m.)

www.gamblehouse.org
4 Westmoreland Place
Pasadena, CA
(626) 793-3334
Castle Green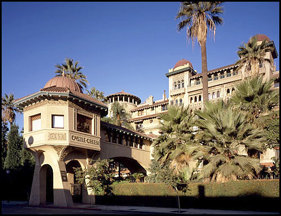 Built in 1898 as an annex to the Hotel Green Complex, this now residential seven-story building is built in the Moorish Coloinal and Spanish Style. The recently restored public rooms contain original furniture and beautiful fireplaces. The Grand Lobby has beautiful mosaic tile floors and the sunroom contains historic wicker. The wall-to-wall carpet has been recently replaced but is from the orignal manufaturer of 1898 and stylistically similar to the original. The curtains have been recently replaced in the original style as well.


www.castlegreen.com
99 S. Raymond Avenue
Pasadena, CA
(626) 577-6765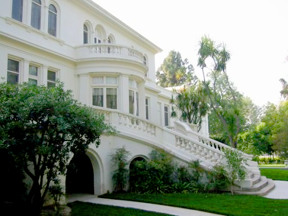 Fenyes Mansion
Designed by Robert D. Farquhar in 1906, this Beaux Arts style mansion is now the headquaters for the Pasadena Museum of History. Located on "Millionaires Row", it was constucted for Dr. Adalbert and Eva Fenyes. Inside the museum are antique furnishings, oriental carpets, exquiste wood paneling and wood floors, and a gallery of California impressionist paintings.

The Blacker House of Greene & Greene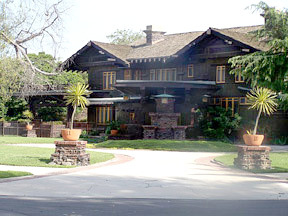 Designed in 1907 by architects Greene & Greene, The Blacker House is a well preserved and recognized masterpiece of the American Arts and Crafts Movement. Built for Robert Rue Blacker, a lumber magnate, at a reported cost of $100,000, this National Register of Historic Places home remains an example of the architects' philosophy for weaving nature and hand-made furnishings into an overall designed environment. With wide hanging eaves, consideration for the relationship between the home and garden, and emphasized horizontal lines, this 12,000 square foot home is a display of harmonious Japanese wood building style vernacular which influenced domestic building design both large and small.

Greene & Greene expressed their design philosophy of creating a unified interior and exterior environment. This treatment had a significant effect on how interior design was interpreted by architects after them.

Privately owned, The Blacker House has been restored over the last six years to its the turn-of-the-century grandeur.

The home is sometimes opened to the public for the Craftsman Weekend sponsored by Pasadena Heritage.
(626) 441-6333.
1177 Hillcrest Avenue
In the Oak Knoll Neighborhood,
Pasadena, CA
Tournament House and Wrigley Garden
The headquarters for the Pasadena Tournament of Roses Association is housed in the Italian Renaissance style mansion once owned by William Wrigley. The chewing gum magnate commissioned architect Myron Hunt to design the house which was constructed between 1908 and 1914.
Tours are available February - August on Thursdays from 2 p.m. - 4 p.m.
Gardens are open daily.


Huntington Library, Art Collections & Botanical Gardens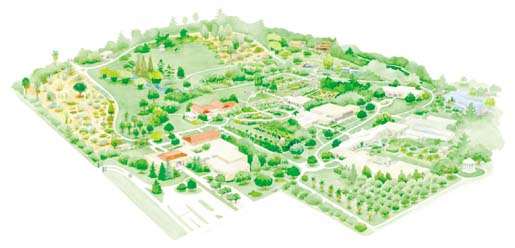 Railroad tycoon Collis P. Huntington left his nephew, Henry Huntington, and Collis' second wife, Arabella, 30 million dollars in 1900, when 30 million dollars was truly a fortune. Henry Huntington began developing these Botanical Gardens in 1903, and later built the existing Beaux Arts style mansion with his wife Arabella, the widow of his uncle. They were avid art, book, manuscript, and decorative arts collectors.
The Library, Art collection and Botanical Gardens are a vast cultural and historical complex.
The Library houses rare books, manuscripts, and maps.
The art collections include works from Thomas Gainsborough, Joshua Reynolds, John Singer Sargent, Mary Cassatt, and Frederic Remington. Currently the Huntington Gallery, housed in the former Huntington residence, is being renovated; but the masterpieces have been relocated for the public's viewing enjoyment.
The gardens span nearly 150 acres with rolling lawns and themed garden vignettes. More than 15,000 species of plants from all over the world thrive in the botanical collections.
32nd Annual Plant Sale: May 21, 2006
HOUSE TOURS AND DESIGN-RELATED EVENTS

CLIMATE

With an average temperature of 76 Fahrenheit all year long, the Pasadena climate has been attracting people from our East, Midwest, and other locations throughout the world since it become an established territory in the mid 1850s.
LOCATION (Airports)

Bob Hope Airport: 2627 N. Hollywood Way, Burbank; telephone: 818/840-8830 or 818/840-8847; www.burbankairport.com.

John Wayne/Orange County Airport: 18601 Airport Way, Santa Ana; telephone: 949/252-5006; www.ocair.com.

Long Beach Airport: 4100 Donald Douglas Dr.; telephone: 562/570-2600; www.lgb.org.

Los Angeles International Airport (LAX): telephone: 310/646-5252, www.lawa.org.
Ontario (USA) International Airport: Airport Dr. and Vineyard Ave., Ontario; telephone: 909/937-2700, www.lawa.org.